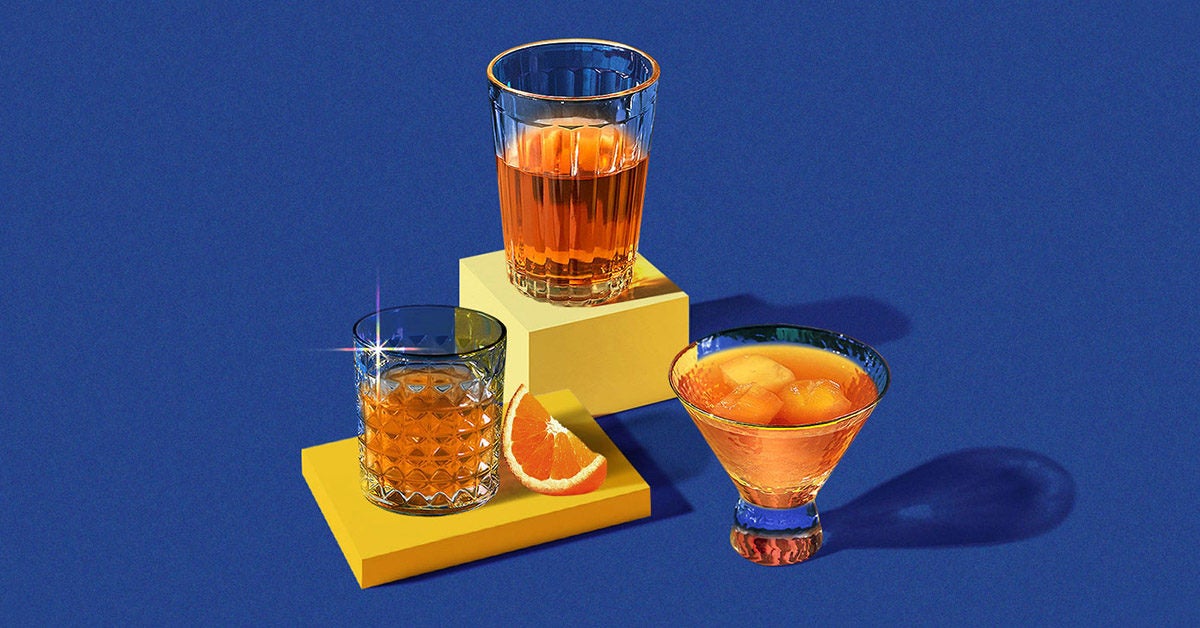 If you buy something through a link on this page, we may earn a small commission. How this works.
Wellness shots have been slaying at juice bars for years now. Or that's what the influencers are saying, anyway. We wouldn't know, because apparently fresh juice is worth its weight in gold these days.
We'll be honest — we're seriously skeptical of the grand claims we've been hearing about wellness shots (think: cleanse, detoxify, regenerate).
So we'll get this out of the way: These shots aren't miracle cures. Making fruits and vegetables into juice doesn't magically imbue them with properties they didn't have before.
But we're giving these shots a chance because we can't resist a good DIY project. Especially a delicious DIY project.
The best thing about making wellness shots at home — besides it being wayyyyy less expensive — is that it's easy to make sure they taste awesome. To get you started, we gathered 12 great recipes from around the web. And we'll clue you in to a couple shortcuts along the way.
No juicer? No problem
You don't need a fancy juicer to make DIY wellness shots. A high-speed blender, food processor, immersion blender, or hand grater will work. But make sure to buy a
mesh strainer
— it'll make the process much easier.
Just follow these easy steps:
Blend up your goodies.
Place a mesh strainer over a wide-mouthed jar.
Pour the blended mixture into the strainer.
Press the pulp against the strainer to get all that nutritious juice out.
Let's kick things off with apple cider vinegar, the ultimate easy wellness shot. ACV has been used forever as a wellness tonic, and research backs up some of its possible benefits.
A 2007 study found that a daily dose of at least 2 tablespoons of ACV could lower the blood sugar of people with diabetes. And according to a 2009 study, downing a little vinegar each day may help with weight loss and lower triglyceride levels.
We recommend using unpasteurized, unfiltered brands like Braggs that include the "mother." Yep, those creepy strands at the bottom of the bottle are actually proteins, enzymes, and good bacteria.
Basic ACV wellness shot
The key is to dilute the ACV with water. If you're new at this, start light: 1 teaspoon ACV and 2 tablespoons water.
Take a sip and see how it tastes and feels. If you'd like a stronger flavor, add a second teaspoon.
1–2 teaspoons ACV
2 tablespoons warm or room-temperature water
Now, sip it — *please* don't shoot it. The flavor may seem strange at first, but the tangy, salty, slightly sweet flavor grows on people. And it makes our tummies feel good.
But be conservative with the amount of ACV you drink at one time and don't drink more than 1 to 2 tablespoons a day. Drinking too much straight ACV can have side effects including upset stomach and throat burns (yikes!).
You can also use ACV to soothe the yucky effects of a cold
Add garlic, honey, and lemon to your ACV and you have an elixir perfect for soothing a sore throat and breaking up the mucus brought on by a cold. Just mix up a batch and pour a shot daily to feel better.
We just don't have the research to say these ingredients can treat a cold virus (there's still no cure for the common cold, folks!). But this tonic can help ease some of the symptoms. Honey, for example, has been shown to lessen coughing, and garlic may reduce the severity of a cold.
Homemade elderberry syrup: An ancient balm for the modern day
At the slightest hint of a cold, we take a shot of homemade elderberry syrup. Although research is scant, elderberry has been used in folk medicine for centuries. A small study in 2004 showed it was effective at treating the flu.
We always keep a bottle in the fridge. An ounce and a half (sipped from a little schnapps glass, just to be cool) is perfect for soothing a scratchy, sore throat.



You can buy dried or frozen elderberries online. The shrub is native to North America, so why not plant a few too?
Black currants
High in antioxidants and vitamin C, black currants are a nutritional powerhouse that may be great for boosting your immune system. We love this recipe for a sweetened black currant concentrate that can be used as a wellness shot.
Somehow the blogger got her hands on fresh black currants, but for most of us it's easier to find frozen or dried black currents.
Pro tip: Sweeten the tart berries with honey instead of sugar.
Why do we love beets, anyway? There's evidence they help fight inflammation, and one beet gives you more than 20 percent of your daily recommended intake of the B vitamin folate.
We also kinda love that pretty pink beet pee.
Beet juice
Start the day with 1 1/2 ounces of this beautiful beet juice. It's ridiculously delicious, filled with the naturally sweet goodness of beets, apples, carrots, and celery.
Beets + apples = unbeatable
A wellness shot with a 1-to-1 ratio of beets to apples is a must-try! You'll sigh with pleasure as you sip the naturally sweet, slightly salty juice.
Add lemon and ginger to the mix
This recipe lightens the beet juice with cucumber and lemon while spicing it up with ginger. Beet is the only sweetener needed in this earthy, tart shot.



Get the recipe!
Press your juice and store it for later
It's also fun to store and serve wellness shots in clear glass bottles that reveal the vivid color in the juice. Getting creative with the presentation can even add to the sensory experience.
Pro tip: You can reuse interesting glass bottles, shot glasses, test tubes, corks, and bottle stoppers to bottle and store your juice. Keep in mind that you'll need a funnel for bottling.
At some point, turmeric jumped off the shelf and into the basket of every wellness crusader in the biz. So we did a little research to see what all the fuss is about.
Studies have shown that curcumin, a component of turmeric, has anti-inflammatory properties that can help with muscle and joint soreness. It's also known to have antioxidant and antimicrobial effects.
There's a caveat, though: You have to consume turmeric along with black pepper to help your body absorb the curcumin.
Here are our favorite turmeric wellness shot recipes:
Orange-lemon-turmeric shot
An orange adds natural sweetness and vitamin C and intensifies the color of the turmeric. Yeah, we like our shots real pretty.
Coconut-turmeric shot
This recipe uses coconut water, but we also like to make it with coconut milk. You can drink it warm or at room temperature.
Sweet-sour turmeric-ginger shot
This one requires no electric equipment — just a hand grater for the fresh turmeric and ginger, which you'll then steep with black peppercorns. A little bit of honey sweetens this brew. Bonus: A bottle of it will keep in the fridge for a couple of weeks.
Spicy ginger-turmeric shots
Whip up this powerhouse tonic in a blender. The blogger gives advice on mellowing the flavor of the ginger, which can give a burning feeling to some folks' stomachs. This is a hardcore wellness shot.
Carrot-turmeric shot
There's no link to this one because you don't need a recipe. Here's our favorite wellness shot shortcut: Buy a bottle of good-quality carrot-turmeric juice. It has the most beguiling flavor — sweet, earthy, and spicy.
We like Trader Joe's carrot-turmeric juice, but you can also order bottles online.
It can be tough to incorporate greens into your daily life. Adding them to an elixir is great way to get their benefits without the hassle. After all, a serving a day of leafy greens may help slow cognitive decline — not to mention the fiber, which your digestive system loves.
Spinach-apple-lemon shot
This just feels sooooo good going down. The green goodness of spinach, naturally sweetened with apple and brightened with lemon, makes us feel ready to take on the world.
Sweet and spicy green shot
Transform celery, apple, and ginger into a refreshing and lively brew. Spike it at the last minute with a dash of cayenne.
Green elixir shots
This blogger went the extra mile and ordered test tubes to fancily serve up these shots, but we'll likely be sippin' ours out of the only clean coffee mug in our cupboard.
There's a lot going on in this recipe. If you're daunted by the number of ingredients, that makes two of us. But if you can make it to the grocery store, this elixir is worth it.
Don't overdo it
Start by integrating one wellness shot a day into your diet rather than going all in several times a day and sending your tummy into fits of gurgles.



And if you're waking up to a shot first thing in the morning, be mindful of the ingredients. A carrot-turmeric shot might be delightfully refreshing and invigorating, but the spice and intensity of a ginger-cayenne shot on an empty stomach could make you queasy.
We sip our wellness tonics like we sip our booze, and we've never regretted it. Whether you sip or slug doesn't make much of a difference nutritionally — it's all headed for the same place. But we prefer to enjoy the experience rather than treat it like yucky medicine.
After all, there's nothing inherently healthier about a shot that burns your esophagus or strips the enamel off your teeth. (News flash: Shooting vinegar may look macho, but it isn't actually healthier.) Your shot shouldn't be so bitter or slimy that you're gulping it down and running for a glass of water.
A daily wellness shot doesn't replace whole fruits and vegetables
Don't stop at a daily wellness shot — add these ingredients to your diet in other ways. For example, you can harness the anti-inflammatory benefits of turmeric by adding it to curries and stews.
Wellness shots are fun to make, serve, and sip. But keep in mind that they're meant to complement your diet, not act as a replacement.
Elizabeth Keyser's articles have appeared in GQ, The New York Times, New York Post, Hartford Courant, Connecticut Magazine, dLife, Greatist, and many more places. She's the co-author of Starting and Running a Restaurant. ElizabethKeyser.com